Software Maintenance, Enhancements and Support
It can be time consuming to tackle your software maintenance, enhancements and support on your own. We know you're busy and your time is valuable, but we can help. Let us diagnose and solve your technical software problems.
We can facilitate all of your PLM technical support requirements and administration, including automatic software updates and maintenance releases, as part of your standard maintenance contract. In turn, you can spend your time engaging in a more productive work environment.
Software Maintenance and Enhancements
Software maintenance and enhancements help ensure that you gain the maximum benefit from your PLM software investment. With software maintenance, you can automatically receive major software releases with new features, functions and software corrections. Software enhancements also include point releases with limited new features.
Technical Support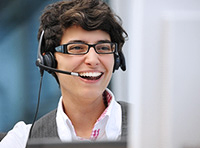 Our technical support organization, Global Technical Access Center (GTAC), provides you with technical resources whenever you need them. From troubleshooting to software fixes, we diagnose and help solve your Siemens PLM Software issues in local language through responsive and specialized PLM technical support.
Our channel partners provides the first line of support for promoting product utilization and supplying technical support requirements. A channel partner gives you the advantage of local and timely support, bridging the gap between time zones, languages and cultures to meet all of your support needs quickly and easily.